Can You Feel the Madness?
In Chris Herdman's 7th grade math class, students participated in a math based Problem-Based Learning task about the basketball craze; March Madness. Students created graphs following the progression of the tournament and learned all about probability and statistics throughout the month.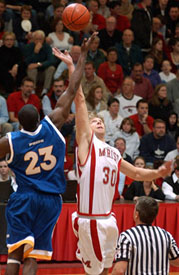 "Today's Townsquare Teen Territory"
The Sixth Grade MATRIX team is in the process of developing a geometry unit whereby students use their geometry skills and knowledge to plan and design "teen towns". Students will present their projects in MS PowerPoint slide shows. More about this exciting lesson will be coming soon!
"Getting Down To Business"
Mrs. Freeman's seventh graders are busy learning consumer math concepts through business simulations and games. Some of the software and websites they are exploring include "Hotdog Stand: The Works" and MathScape's unit materials from "Getting Down To Business".

Click below to link to a free trial download of the popular game:

Bridging the Math Gap!
Mrs. Freeman's seventh graders also participated in a mini problem-based learning task recently. The students used pictures of famous bridges to discover the mathematics and geometry behind bridge building.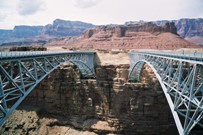 Noon Day Wrap-Up
MacKinnon Sixth Graders wrapped up the Noon Day Project by using their Equinox measurements to complete calculations of the Earth's circumference. All four classes did very well reporting circumference estimates with error rates between 3% and 12%. Earth's actual circumference is about 40,076km at the equator. Polar measurements are slightly lower. All of the student groups estimated our great planet's girth at anywhere from 40,000 to just under 44,000km. Excellent work using nothing more than a stick, a string and a protractor!
Way to go Sixth Graders!!!