All of us at the MacKinnon Middle School are proud of our colleague, MATRIX participant and sixth grade math teacher, Betsy Riordan. Mrs. Riordan and her Learner-Active Technology- Infused Classroom™ are currently this month's Teacher Feature at Innovative Designs for Education. Take some time to check out Mrs. Riordan's feature presentation….you'll be glad you did.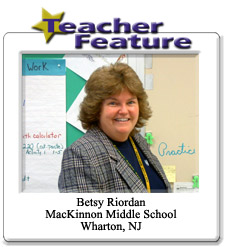 "I believe it is my responsibility to not only prepare students for life, but to make good memories. We all have that teacher that we remember because they either gave us a reason not to succeed or a memory from a teacher that gave us a reason to learn and make every effort for excellence. I insist on being a good memory for my students and creating a reason to strive for the best."
For some time now Mrs. Riordan's math students have enjoyed singing the math memory songs their dedicated and talented teacher composes on their behalf. Math students everywhere can benefit from Mrs. R.'s musical creations. Let's have a listen!